📢📢Read full post in Download Silo Facebpook group https://www.facebook.com/groups/downloadsilo/posts/1327075364511715/
🔥11 Winners ~ Brillian Directories FB Live + "Ask The Founder" Giveaways - Official Discussion Thread🎁
#brilliantdirectories #LTD #giveaway #lifetimedeal #officialdiscussionthread
Create & Monetize Your Own Membership Sites & Business Directories
✅ Deal Link: https://go.downloadsilo.com/brilliantdirectories
⭕What is Brilliant Directories?
✅ Brilliant Directories is an all-in-one platform that allows you to launch, manage, and monetize your own Membership Sites & Business Directories
✅ Create members-only sites, grow your recurring income, and dominate your market without juggling different tools.
⭕TL;DR
✅ Attract and engage your members with a fully managed and hosted solution that looks great on every device
✅ Maximize revenue with powerful options to sell subscriptions, leads, digital products, event tickets, and more
✅ Alternative to BuddyBoss, MemberPress, Wishlist Member, ListingPro
✅ Best for Solopreneurs, Freelancers, SMEs, Marketing Agencies, Web Designers, and Agencies who want to take advantage of membership programs, monetize their sites, and maximize their market.
⭕🎁How to win this giveaway❓🎁
✅Part 1: At Facebook Live Session (Total 6 prizes)
▶ Six giveaway prizes to be won
x1 Special Grand Prize* one unit of 64 GB iPad Air
x1 Plan A LTD ($89/lifetime)
x1 Plan A LTD ($89/lifetime)
x1 Plan A LTD ($89/lifetime)
x1 Plan A LTD ($89/lifetime)
x1 Plan B LTD ($197/lifetime)
*T&C Apply: This special grand prize will ONLY be triggered when there is a minimum of 300 live attendees during the live session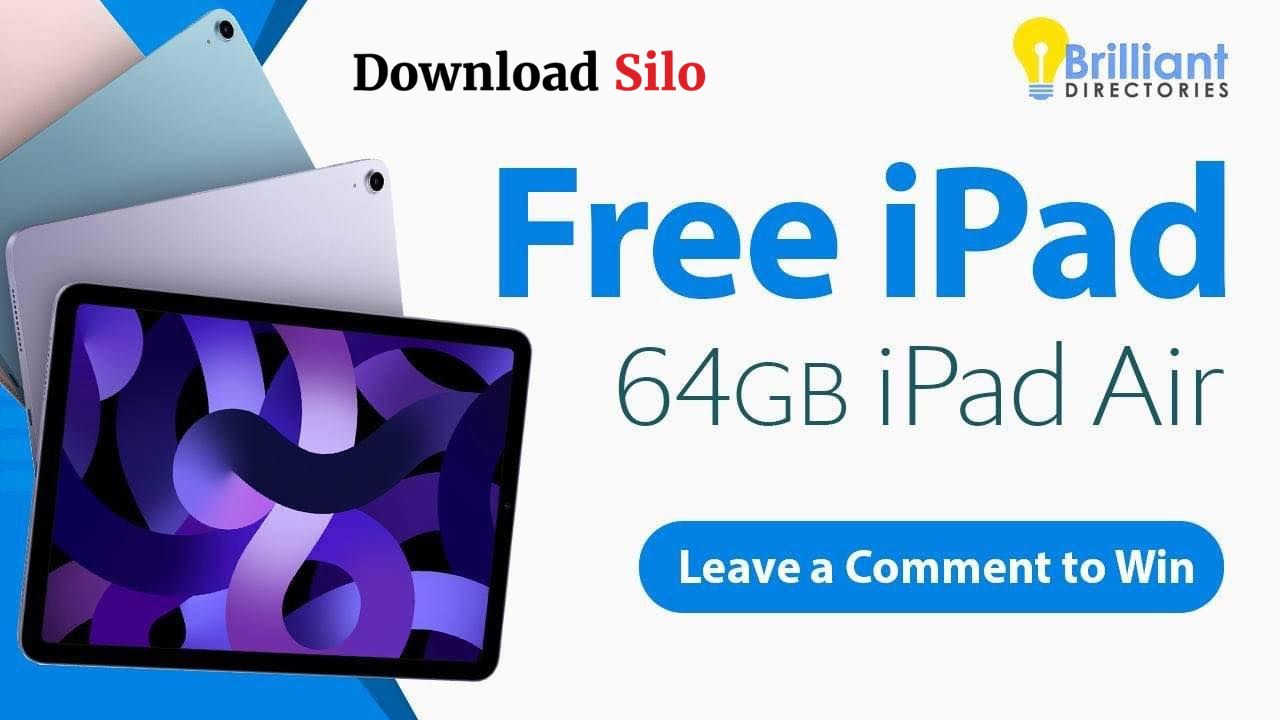 ▶ Join FB Live Session here: https://www.facebook.com/groups/downloadsilo/posts/1327763084442943/
▶ ⏲️12 pm (noon) UTC+8 / 9.30 am IST / 5 am CET 📅 Thursday, 2 February 2023
▶ ⏲️ 8 pm PST / 11 pm EST/ 📅 Wednesday, 1 February 2023
✅Part 2: At Facebook group post here (Total 5 prizes)
▶ Five giveaway prizes to be won
x1 Plan A LTD ($89/lifetime)
x1 Plan A LTD ($89/lifetime)
x1 Plan A LTD ($89/lifetime)
x1 Plan B LTD ($197/lifetime)
x1 Plan C LTD ($297/lifetime)
Simply join the giveaway by checking out the tool here https://sendthis.link/brilliantdirtectories
Sign up for a free 7-day trial account: https://www.brilliantdirectories.com/freetrial
Subscribe to Download Silo YouTube channel and Like/Comment on any of the videos. https://go.downloadsilo.com/downloadsiloyt
Comment I ❤️ Building Directory Websites using Brilliant Directories with a creative GIF
Ask any questions related to Brilliant Directories for co-founder & CEO Jason Haloossim
You can ask more than one question. The more the merrier!
Don't say things like "I love this app!" or "I like to win this!"
Ask question(s) and win. Go go go!
Go ahead to Ask And Win!
Winners will be chosen based on your questions (OR comment, review, feedback, suggestion) AND/OR by random draw.
The more helpful or insightful your comments the better your chances of winning!
Winners will be announced in two weeks.
⭕Some Interesting Use Cases
✅ Create an online directory to manage members & member profiles.
✅ Create a lead-generation website for businesses & professionals listed on the website.
✅ Marketing agencies need to create membership websites for clients.
✅ Organizations want to create a website to manage their members, collect dues/subscription fees & distribute content/information to them.
⭕Why choose Brilliant Directories?
✅ Ready-made websites & easy to customize.
✅ Manage members & recurring subscriptions.
✅ Fast payment processing & BrilliantDirectories never takes a cut.
✅ Publish landing pages, articles, events & more.
✅ Send newsletters & integrate with Zapier.
✅ Simple setup and ease of use.
✅ Available on a lifetime deal for a limited period.
⭕Useful Links😇
✅ 🛒Deal link: https://go.downloadsilo.com/brilliantdirectories
✅ Free 7-day trial account: https://www.brilliantdirectories.com/freetrial
✅ Vidoe Tutorials: https://www.brilliantdirectories.com/directory-website-video-tutorials
✅ KnowledgeBase: https://support.brilliantdirectories.com/
✅ Roadmap: https://trello.com/b/fyX3hsyL/brilliant-directories-roadmap
✅ Support: social@brilliantdirectories.com
✅ Facebook Community: https://www.facebook.com/groups/BrilliantDirectories