🔥5 Winners ~ SEOBoy LTD + "Ask The Founder" Giveaway Offcial Discussion Thread🎁
#seoboy #LTD #giveaway #lifetimedeal #newdealalert
SEOBoy provides professional, white label SEO reports, competitor analysis and tools
✅🛒Deal link: https://go.downloadsilo.com/seoboy
⭕What is SEOBoy?
✅SEOBoy will identify the most critical technical SEO issues and take action to improve
the health and performance of your website, generate insightful, concise
and easy to understand SEO reports that will help your webpage rank
and perform better.
✅ The generated report can be printed or exported to PDF.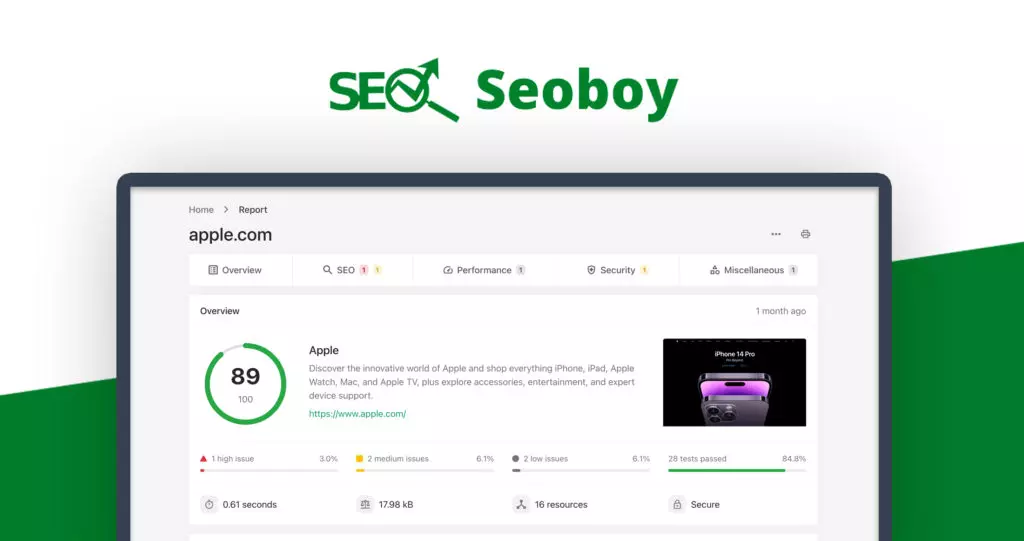 ⭕🎁How to win this giveaway❓🎁
▶ Five giveaway prizes to be won
x1 SEOBoy LTD ($49/lifetime)
x1 SEOBoy LTD ($49/lifetime)
x1 SEOBoy LTD ($49/lifetime)
x1 SEOBoy LTD ($49/lifetime)
x1 SEOBoy LTD ($49/lifetime)
Simply join the giveaway by checking out the tool here https://go.downloadsilo.com/seoboy
Subscribe to Download Silo YouTube channel and Like/Comment on any of the videos. https://go.downloadsilo.com/downloadsiloyt
Comment I 💗SEOBoy with a creative GIF
Ask any questions related to SEOBoy for founder Arpit Kanstiya
You can ask more than one question. The more the merrier!
Don't say things like "I love this app!" or "I like to win this!"
Ask question(s) and win. Go go go!
Go ahead to Ask And Win!
Winners will be chosen based on your questions (OR comment, review, feedback, suggestion) AND/OR by random draw.
The more helpful or insightful your comments the better your chances of winning!
Winners will be announced in two weeks
⭕TL;DR
✅ Ranking improvement – Reports that help you improve your presence on major search engines.
✅ Complete solution – Comprehensive platform to easily manage your SEO reports, projects and tools.
✅ Advanced reports – Detailed reports that enables you to take actions on issues that actually matter.
✅ Export – Your reports, in multiple ways: print, pdf, csv.
⭕Killer Features
✅Competitor Analysis - analyze your competitor's website based on KEYWORD and LOCATION, get details about competitor's PA, DA Rankings, Number of Backlinks and Search Engine Rank. Export the results in CSV Format.
✅ Keyword Research - analyse your KEYWORD in terms of CPC and Search Volume based on the location of interest, the results are exportable in CSV format.
✅Backlink Analysis - analyse Backlinks to your website or your competitor's website, get up to 350 full links including page title, site DA and PA ranking, download the results in CSV Format.
⭕Useful Links😇
✅ 🛒Deal link: https://go.downloadsilo.com/seoboy
✅ Roadmap: https://seoboy.io/pages/roadmap
✅ Demo:https://seoboy.io/reports/1
✅ API for Developers: https://seoboy.io/developers
✅ Contact: https://seoboy.io/contact