📢📢Read full post in Download Silo Facebpook group https://www.facebook.com/groups/downloadsilo/posts/1322683878284197/
📢One Random Winner ~ StoryScaper LTD Giveaway🎁
✅Deal Link: https://go.downloadsilo.com/storyscraper
⭕ What is StoryScraper?
✅ StoryScraper.io is the perfect tool for anyone who wants to create Web Stories quickly and easily.
✅ It makes it easy to find the right topics, curate the right images, and format the content—all you need to do is enter a keyword and let StoryScraper do the rest!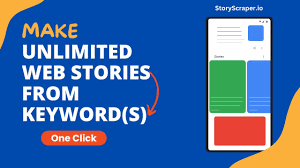 ⭕ How to win this giveaway❓
✅ Comment I 💖 StroyScraper with a GIF
✅ Simply join the giveaway by checking out the tool here https://go.downloadsilo.com/storyscraper
✅Subscribe to Download Silo YouTube channel and Like/Comment on any of the videos https://go.downloadsilo.com/downloadsiloyt
✅ One random winner will be picked
✅ Thanks to Udit Goenka for the giveaway prize!